Clear Linerless Label for Fish Pack is One of Many Firsts
A new VSP package for fresh fish entrée brand Rebel Fish is decorated with a vibrantly printed linerless label from a new flexo converter committed to redefining the U.S. print market.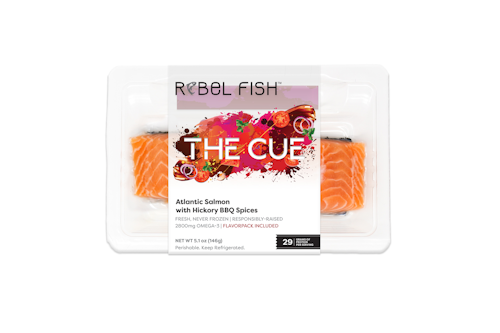 The world's largest sustainable seafood farmer, Mowi ASA (formerly Marine Harvest ASA) of Norway, is known as somewhat of a trailblazer. In April 2014, it introduced the first branded refrigerated fresh salmon product in the U.S., its Rebel Fish line, comprising six microwavable salmon entrées.
According to the company, its mission with the Miami-based Rebel Fish brand is to change how consumers think about seafood by "Rebelutionizing the world of fish." The products pair culinary-inspired seasoning rubs with fresh, never frozen, salmon that is quick and easy to prepare. "We pack it and you do the rest—no mess, no stress," says the Rebel Fish website.
In 2018, the company decided to update its packaging from a vacuum skin pack with an opaque tray and a paperboard sleeve to a VSP with a clear tray and a transparent film label—a format quite popular in Europe, but one that would be a first for the U.S. seafood market. "We were collaborating with local designers to bring to life a very European packaging concept that had generated a lot of excitement here at Mowi, so the pressure was on," says Rachael Aguirre, Marketing Manager for Mowi USA.
To bring the new package format, replete with vibrant labels awash with bold color, to market at a cost that fit their budget and would meet a tight deadline from Walmart, Mowi turned to a company that shared its desire for industry disruption: flexo label converter Catapult Print of Orlando, FL, whose tagline is "Print Redefined."
As like attracts like, seafood pioneer Mowi became print industry disrupter Catapult Print's first customer, with the new packaging for Rebel Fish hitting store shelves in July 2018.
'Print redefined'
Catapult Print was founded in April 2018 by U.K. expat and CEO Mark Cook, who was formerly Sales Director and Partner at U.K. print company Paragon Printing and Packaging, and more recently, Group Sales Director for Equator Design. At his side in the development of the company are sons Lewis (also formerly of Equator in the U.S.) and Ashley, who hold the positions of Catapult VP of Sales & Client Service and Director of Technical Sales, respectively.
The Cooks founded Catapult—completely from scratch—to address what they saw as a huge gap in the U.S. printing industry, particularly coming from a design firm perspective. "We felt there was a real wall up against sharing information and just doing the right thing for the customer," says Mark Cook. "It was all smoke and mirrors, it was all very emotional, everyone made it more complicated than it needed to be.
"And then we were always disappointed by the length of time it took to get things done by printers, in terms of the speed it took to turn things around, and the quality. We would put so much effort and energy into design, but then the printing would come back very poor."
According to Lewis Cook, U.K. printers are almost "neurotically nervous" about keeping their customers happy, because if they lose one, "there aren't a million more to go after." He adds, "Because the U.K. is much smaller [than the U.S.], the print runs are smaller. So you have to be efficient as a business. Even the big printers don't have the luxury of running jobs for four or five days at a time, because even the big runs aren't that big. So from a cost and efficiency standpoint, you have to learn how to become quicker, how to become better, so that you can get the next job on the press. It's the only way you can make money."
He speculates that the abundance of print business in the U.S. has led to mediocrity and a status quo of unnecessarily long turnaround times and inconsistent quality. In the U.K., the average makeready is 45 minutes; in contrast, in the U.S., it's two and a half hours.
"When we did the research in setting up the business, we decided that to forge ahead we'd invest in new technology in order to offer something completely unique and to carve out a distinctive USP [unique selling proposition]," says Mark Cook. "We wanted to redefine print and do something completely different.
"Starting the business from scratch allowed us to invest in the latest equipment, the latest technology, and the latest processes and systems. The biggest thing it allowed us to do also was create a culture from day one that is customer focused."
Five pillars
Catapult operates from a 56,000-sq-ft building in Orlando, providing flexo-printed self-adhesive, narrow-web film and linerless labels to Consumer Packaged Goods companies, particularly in food and beverage applications. According to Mark Cook, Catapult focuses on five key pillars, or drivers, to become customers' preferred provider: quality, price, service, lead times, and innovation. Each one, to some degree, is enabled by the company's investments in technology.
One of the main elements contributing to print quality is Catapult's use of Bellissima Digitally Modulated Screening technology from Hamillroad Software. Catapult is the only flexo label converter in the U.S. using it. Bellissima DMS modulates every pixel it produces, precisely controlling the dots in each separation, while its stochastic rosette interposes the dots between the separations. This process ensures that noise and moiré are eliminated. In addition, the stochastic rosette maximizes the ink-on-paper area and minimizes the amount of ink-on-ink to expand the available color gamut, while eliminating color shifts due to registration. The result is photo-quality print that in some cases rivals the appearance of offset or gravure.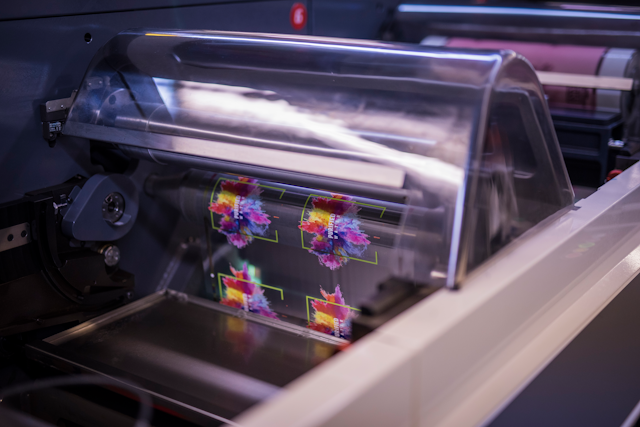 Catapult uses an eight-color UV flexo label press with separations created using Digitally Modulated Screening technology to achieve presswork equivalent to a 350- to 450-lpi screen.Explains Mark Cook, "A great way to analogize the switch to Bellissima DMS is to consider the change from standard-definition television to HD. Back before we all owned these beautiful flat-screen HD TVs, the picture quality and pixilation that occurred on our sets gave a less refined appearance. When you compare the old standard-definition televisions to the next-generation HD TVs, you realize the difference made by this screen evolution straight away. There's a real step change happening in print that's quite similar to before and after the arrival of HD TV. The same as with HD TV, you really get the wow factor—and there's no going back to the old, poorer-definition way of doing things."
Bellissima screening technology produces presswork equivalent to a 350- to 450-lpi screen, versus the 150- to 175-lpi screen commonly found in the industry.
Other technology enabling quality at Catapult includes an XPS Crystal CDI flexo platemaker from Esko, which integrates the imager and exposure unit in one machine; a LAVA® 4260 thermal plate processing system from MacDermid Graphics Solutions; LUX® In-The-PlateTM (ITP) 60 flat-top dot technology photopolymer plates, also from MacDermid; three eight-color Nilpeter FA UV flexo presses; and patented GTT laser-engraved anilox rollers from Apex Intl.
The business has also invested in AVT printing inspection systems to guarantee consistency. AVT's system uses built-in machine learning intelligence to significantly decrease start-up time and materials waste. Its preset accuracy is improved through its automatic self-learning feature, which applies corrections to the ink keys of digital preset files based on previously run jobs.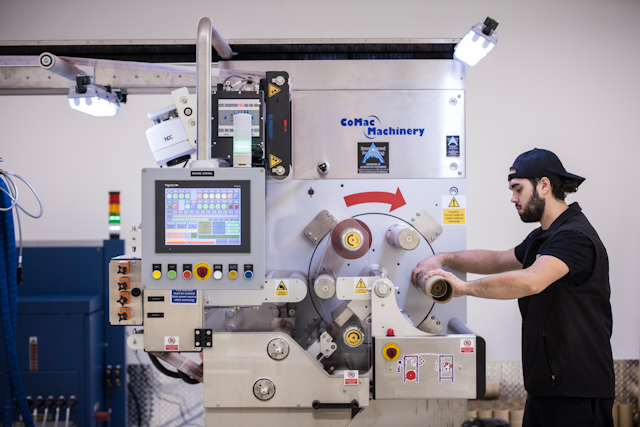 For its linerless label business, Catapult has a CoMac coating machine that adds a pressure-sensitive adhesive to one side and UV-curable silicone lacquer to the other side of a preprinted film label. Catapult also has an ink lab equipped with an ink mixer from HMJ tech that can create every color in the digital Pantone color library as well as custom colors, using low-migration UV inks from INX. "We saw a lack of color consistency in the market," says Mark Cook. "An ink lab takes the guesswork out of ink mixing; it's done scientifically. It's another game-changer—it drives consistency, and customers understand the science."
For its linerless label business—another technology prevalent in Europe as well as in Australia and the Far East, but still finding its footing in the U.S.—Catapult has a CoMac coating machine from Ravenwood Packaging. The equipment adds a pressure-sensitive adhesive to one side and UV-curable silicone lacquer to the other side of a preprinted film label.
Mark Cook says Catapult is able to deliver high quality while keeping costs low because it equipped its plant from the outset with the right machinery. This ability to deliver both high quality and low cost to its customers is one of the reasons the business grew in just one year to $8.5 million in sales. "If it was just about quality, a lot of customers won't move their business because something looks prettier," he says. "But they definitely will move their business if it looks prettier and it's a prettier price as well, and it provides a better service."
The company's investment in state-of-the-art equipment has resulted in efficiencies that also enable another pillar of the business: lead times. According to Mark Cook, if needed by the customer, Catapult can and will turn a job around overnight. "I would say that most companies have a two- or three-week lead time, going up to 12 weeks," he says. "When we talk to customers about lead time, we're very flexible. We say, obviously, that we'd like five working days, but the reality is, if you need it tomorrow, then we can make it happen. And having that in-house structure allows us to react to those things."
Being able to provide shorter lead times also changes the dynamic of customers feeling compelled to work with local printers to be able to get their jobs more quickly. This has allowed Catapult to compete all across the country.
Part of customer service for Catapult also involves demystifying the print process for its customers. Having been on the other side, working within a design agency, Lewis Cook said his perception was that print was "20-times more complicated than it is." He adds that by keeping customers at arms' length, some printers have been able to keep the status quo, rather than change the way they do things.
"Having seen that, we wanted to be really open and transparent," he says. "It's not that complicated. And at the end of the day, while we are doing it better than anyone, we are basically still just putting colors onto a piece of paper."
As for the innovation pillar, he explains it not only means using the newest technologies and processes, but "it's a mindset as well." He adds, "It's being on pulse with the trends, to constantly be looking out there at the marketplace, engaging with our suppliers, and engaging with our contacts in the industry.
"In order to redefine print, you've got to think differently, be different, and be brave in your decisions, as long as they are sensible decisions."
Job fits perfectly in Catapult's wheelhouse
As Mark Cook shares, Catapult's work with Rebel Fish "kicked off just by chance." He explains: "We were meeting with them to discuss other projects when we happened to bring out some samples that we'd done featuring a beautiful laydown of a crystal-white background on clear polypropylene. The client showed us the early design concepts for Rebel Fish. We loved the bold style and on-trend design and knew exactly how to make these work."
Graphics for the redesigned Rebel Fish labels are inspired by Miami's Wynwood art district, which is known for its many colorful murals, including Wynwood Walls, an outdoor museum showcasing large-scale works by some of the world's best-known street artists. Adopting the bright, neon-like colors of the murals, the Rebel Fish label features a splash or splatter-like art element inset with images of various ingredients as the main feature against a crisp, white background. Each of the six varieties uses colors and imagery that correspond with the product flavor. For example, Zest Atlantic Salmon with Lemon Pepper Flavorpack uses a combination of yellows and oranges, sprinkled with spots of green leaves, black pepper, and illustrations of lemons, red onion slices, and garlic cloves.
"Packaging plays such an important role as we aim to stand out on retail shelves," says Mowi's Aguirre. "Many months were spent planning for and perfecting the label redesign. Finding a printer that could produce these bright, saturated colors on transparent film was critical to the success of the redesign."
Explains Mark Cook, there were some early challenges with the job, "specifically regarding the retouch and how the white would work." He adds, "There were three main areas of concern. First, we needed to nail down the exact tint of white and decide on the optimal proportion of transparency for the pack. Second, fine attention needed to be paid to the white behind the splash of color, as the tiny detail and the little splashes could create a problem. And third, the quality of the image and the retouching had to be perfect.
"As part of the process, we arranged for our client to come in for the day to have a real play on press and help us to discover and work through any issues before launch. In the end, we trialed three different tints of white to ensure everyone was happy."
From Mowi's perspective, there were a number of other packaging challenges as well. According to Aguirre, the unique tray design to accommodate the Rebel Fish seasoning package was a first and hadn't been tackled before. "Plus, we were working with limited sizing options for the seasoning packet itself, eventually settling on a narrow stick pack that also worked in-line with our brand guidelines," she explains. "We were also working with automated labels, which meant that the label artwork had to be adjusted numerous times so it would wrap around the tray perfectly without any overlap to create a tight tension."
Satisfied beyond expectations
Rebel Fish's new VSP with a clear film, linerless label, which launched in mid-2018, has resulted in a lot of "buzz" in the seafood industry and beyond, says Aguirre. "In a typically stale grocery category, Rebel Fish has generated a lot of excitement," she says.
Aguirre adds that Catapult was instrumental in bringing Mowi's design to life, saying, "They really have worked miracles that went completely beyond our expectations.
"There are tons of printers out there, but the vast majority don't have the understanding that Catapult print has of the retail grocery industry. To have a team that has worked on the design side of things and also within the FMCG [Fast Moving Consumer Goods] sector is something that is really quite extraordinary and is advantageous in terms of their understanding of how things work and the challenges that need to be overcome."
Read online at Packaging World: https://www.packworld.com/design/materials-containers/article/21103944/clear-linerless-label-for-fish-pack-is-one-of-many-firsts
Related content: