A Great Success for the Future of Flexo
OMET, Durst, Nazdar, Flexografix, and 11 other partners promoted the "Innovation Days" on Wednesday and Thursday May 22nd and 23rd at OMET Americas headquarters in Elk Grove Village, IL, to exhibit industry changing technology.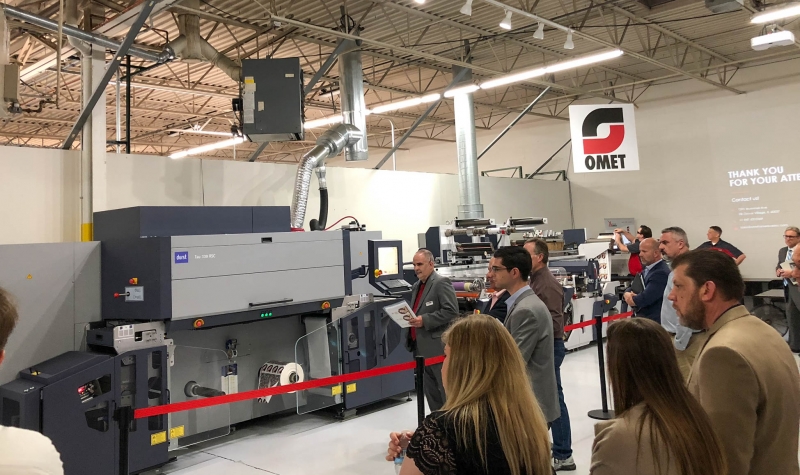 The Future of Flexo initiative continues with an extremely successful Open House Wednesday, May 22nd and Thursday May 23rd. OMET America's focus for the two days was to showcase the new technology using the OMET XJet powered by Durst.
Chris Baldwin, Director of Sales and Marketing, kicked off the event by introducing OMET and explaining the partnership between OMET and Durst. Baldwin stated, "Our open house was a great success! It was exciting to share the OMET XJet press with all of our friends and partners".
Two live demos were running each day to display the outstanding performance of the OMET XJet as well as exhibit the results. The first job demonstrated how close you can match a flexo printed image and a digital inkjet image using Bellissima DMS screening and the RSC technology. Guests attending the demos had difficulty distinguishing the differences between the flexo printed images and the digital printed images. The second demo was even more impressive as they showed a high percentage shrink sleeve job using the OMET XJet Hybrid.
Bob McJury of TLF Graphics gave an outstanding client testimonial stating that, "New business found us" when they added the Durst Tau 330 to their company. Since the addition, TLF Graphics has been able to expand their qualified materials from 30 to 70 in just a few years. McJury finished his speech with a smile, "We don't have any other supplier that treats us with as much courtesy, respect, and speed as Durst."
OMET has an outstanding partnership with Ken Pavett, CEO of Flexografix and Tony Parsons, OEM Technical Services Representative of Nazdar which helped ensure the great achievement of the two demos. The success for this open house is also to be shared with the following partners who participated in the event: Apex, Avery Dennison, Durst, GEW, Grafikontrol, Flexografix, Flexowash, Hamilroad, Kocher + Beck, Nazdar, Rossini, Rotometrics, Tesa, Tresu, and Vetaphone.