Expanded Color Gamut (ECG) Printing for Flexo
What is ECG printing?
Expanded Color Gamut printing (ECG) is the practice of using a set of 4 or more inks (typically 7): Cyan, Magenta, Yellow, and Black (CMYK) plus Orange, Green, and Violet (OGV) to achieve a larger color gamut than that of CMYK. It is also used as a solution to replace spot colors.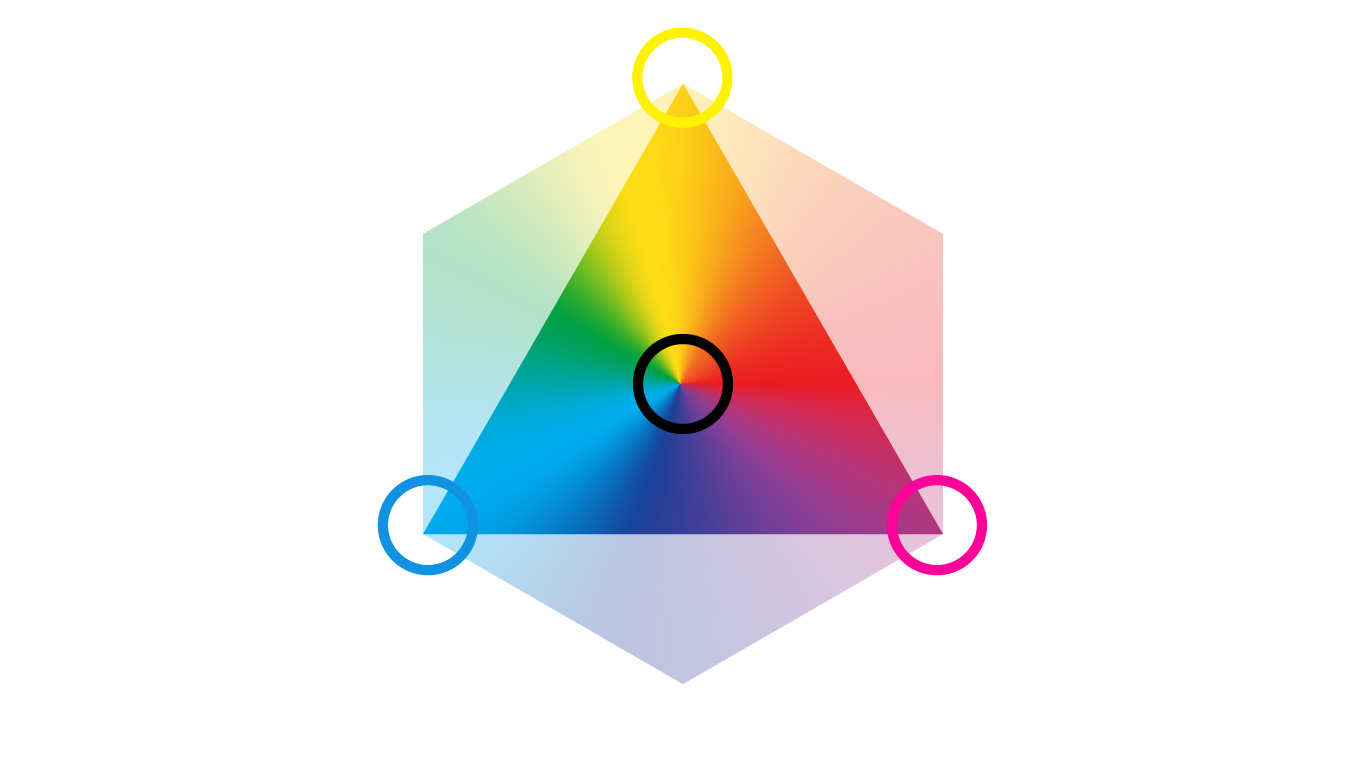 CMYK
Process Color Printing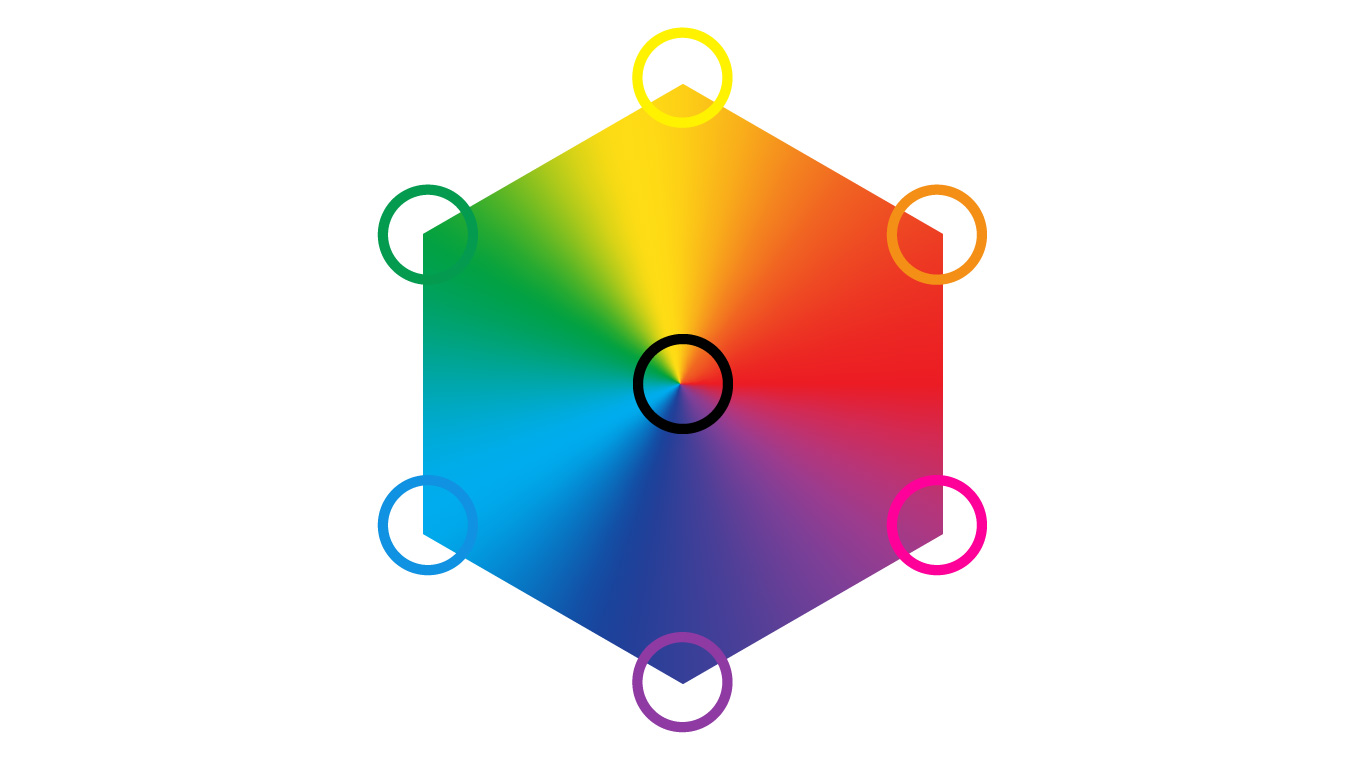 CMYKOGV
Expanded Color Gamut (ECG)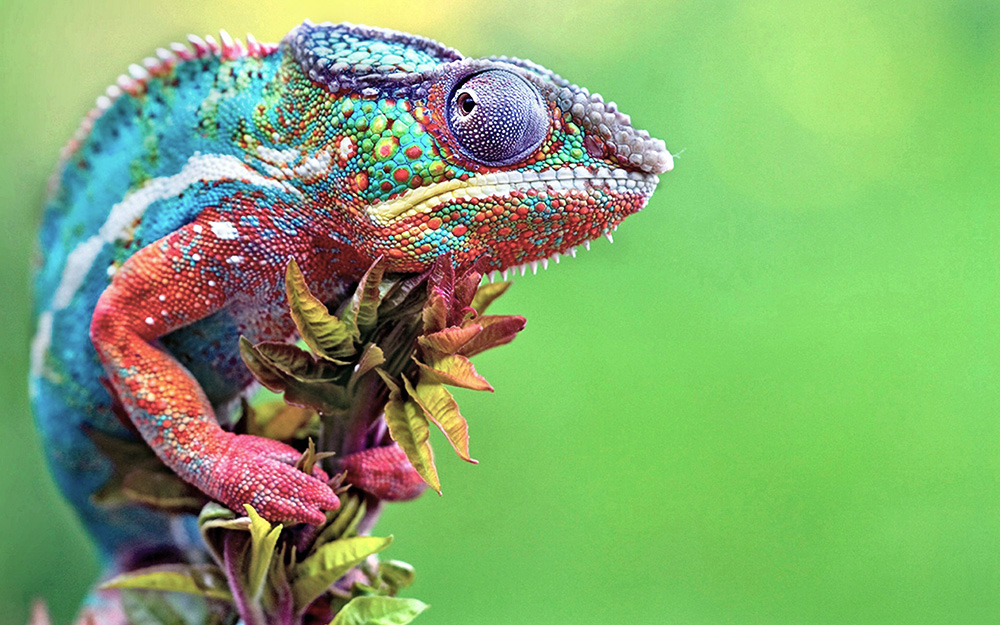 CMYK
Process Color Printing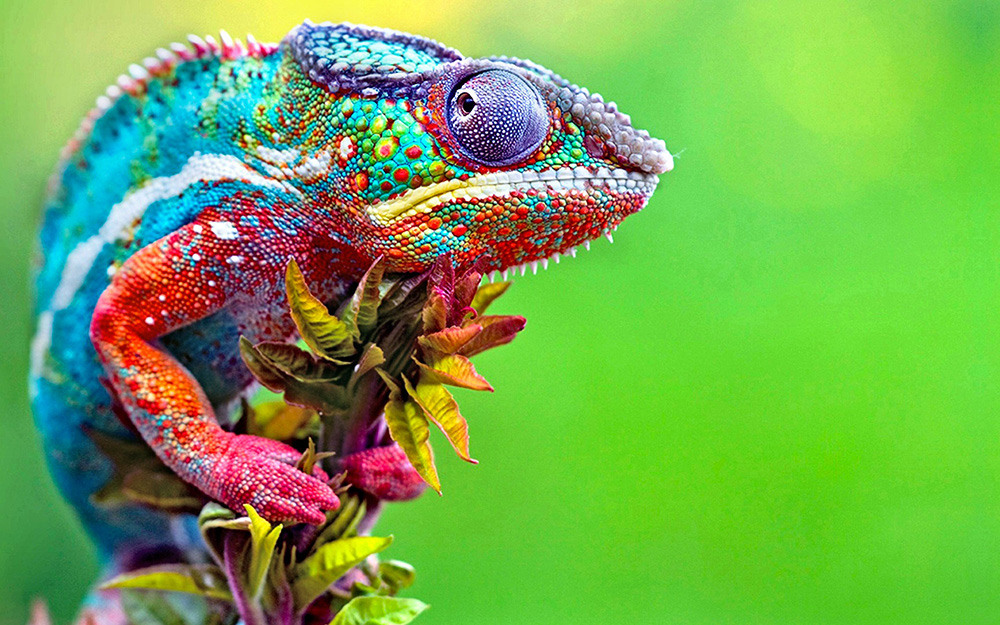 CMYKOGV
Expanded Color Gamut (ECG)
---
The outstanding ECG results produced by Bellissima increased the pressroom's utilization while reducing materials, ink, and waste
---
Reduced press downtime

By moving to ECG, you can reduce the number of press wash-ups and plate changes during production.
Increased press utilization

Make-ready time is much faster and you can composite or 'gang' multiple jobs on the press.
Reduced costs

You reduce the amount of ink used in the printing process and as there are fewer press wash-ups, you reduce the amount of solvents used.
---
The converter has reduced the time on press by one hour per job due to faster make-ready times and removed the waste caused by misregistration. The printer has quantified this to be a 30% reduction in costs per job.
---
Environmental sustainability

As an environmentally responsible brand owner, using an ECG printing process is the most effective and least damaging printing process for the planet.
Better, brighter, and bolder

The color gamut is expanded and a wider choice of designs allows you to experiment with your packaging creativity. Using a standard set of ECG inks, global repeatable color is achieved.
Faster speed to market

As more printers adopt ECG, these 7 inks will form the basis of their stock room shelves. They will be ready to print your packaging and label designs without delay.
The reduced use of solvents is good for the environment and another cost saving for the business
---
Bellissima DMS as an ECG Solution
Bellissima Digitally Modulated Screening (DMS) is a catalyst for change in the flexographic printing industry; changing the expectations a printer can have related to the print reproduction quality they can achieve, the restrictions caused by problems with moiré, misregistration, rosette drift, color shifts, banding, dot gain, dot loss, shadow loss, etc. DMS removes the critical barriers to success with fixed palette and conventional printing.
Using ECG alongside Bellissima, we achieve constant print speeds and superior HD quality throughout the entire print run while keeping make-ready time and waste to a minimum
The path to lowest cost, best quality flexo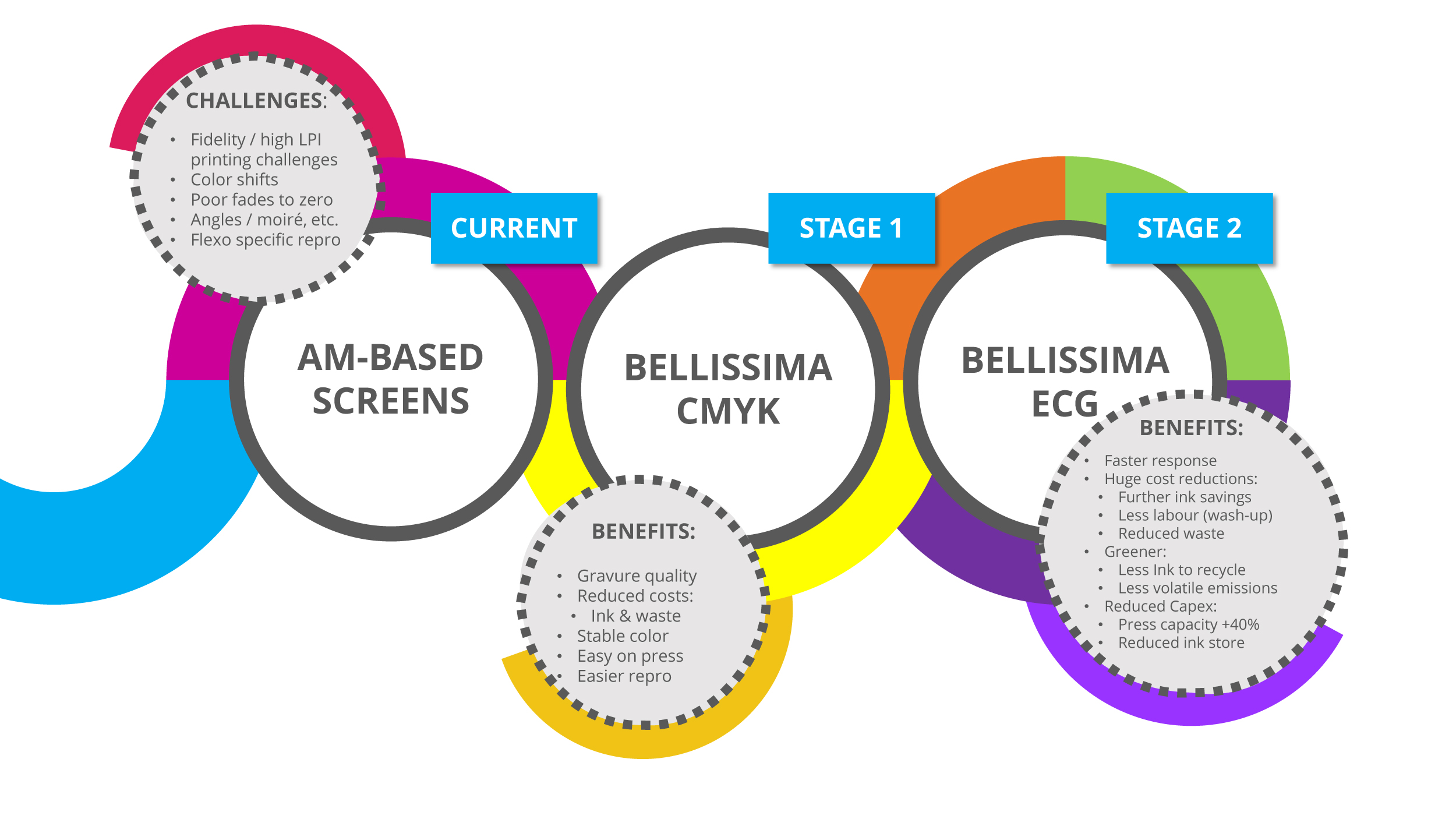 ---
---
We're converting more jobs to expanded gamut; this is helping customers reduce job setup times and waste – a typical example of this is from 2 hours, down to 20 minutes.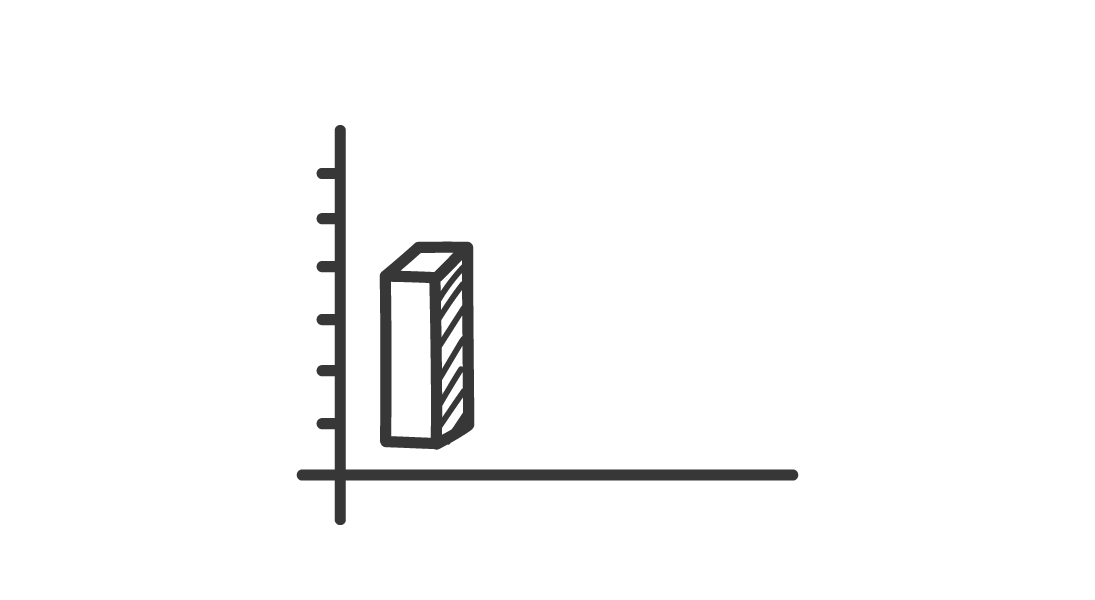 Current Flexo
Conventional AM-based screening is the current standard of screening used for flexographic printing, however, it has its limitations and challenges in an ECG environment:
To print high lpi AM screens, printers typically have to reduce the running speed of the printing press in order to print the high-fidelity. This lengthens the time that a job will run on press and reduces its productivity to produce sellable output.
To register 4 colors can be challenging, and when misregistration occurs on the press, color shifts which cause waste. Moving to an ECG environment with AM-based screening increases registration problems; as you have up to 7 colors to register, the chance of waste from misregistration increase.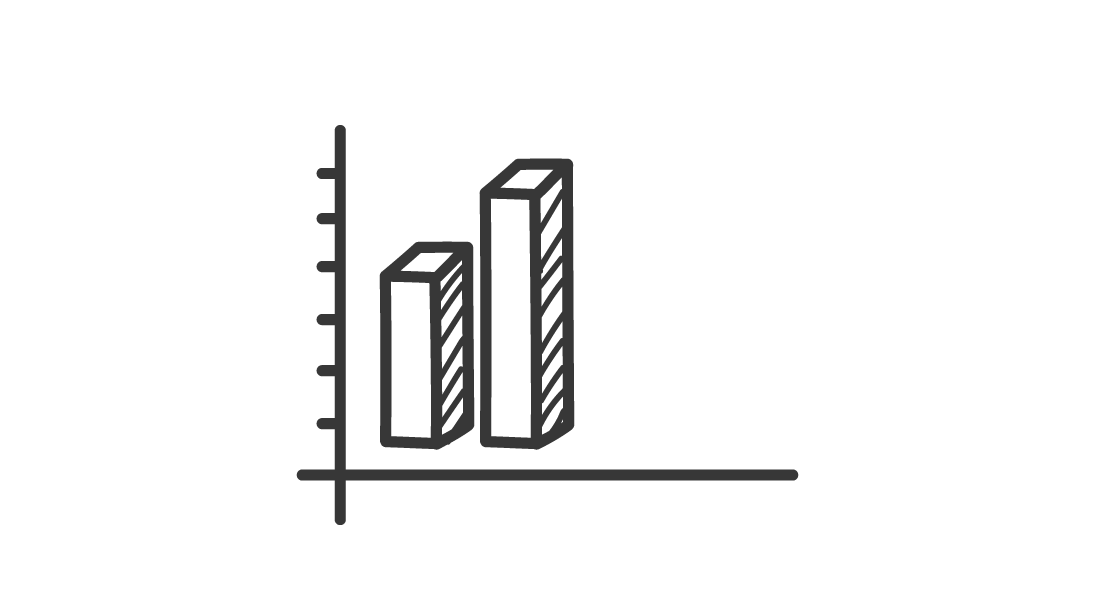 Stage 1: Bellissima CMYK
Moving to a Bellissima DM Screen for flexo, a printer immediately benefits from increased printed image fidelity and is able to match, and in some cases exceed, the quality of jobs printed offset and gravure.
Unlike an AM screen, Bellissima doesn't have screen angles, instead, its patented stochastic rosette interleaves the screens in the separations to eliminate noise and moiré. In addition, the stochastic rosette maximizes the ink-on-paper area and minimizes the amount of ink-on-ink to expand the available color gamut while eliminating color shifts due to misregistration.
As a result, you get a reduction of ink and waste and achieve stable, repeatable color over the print run.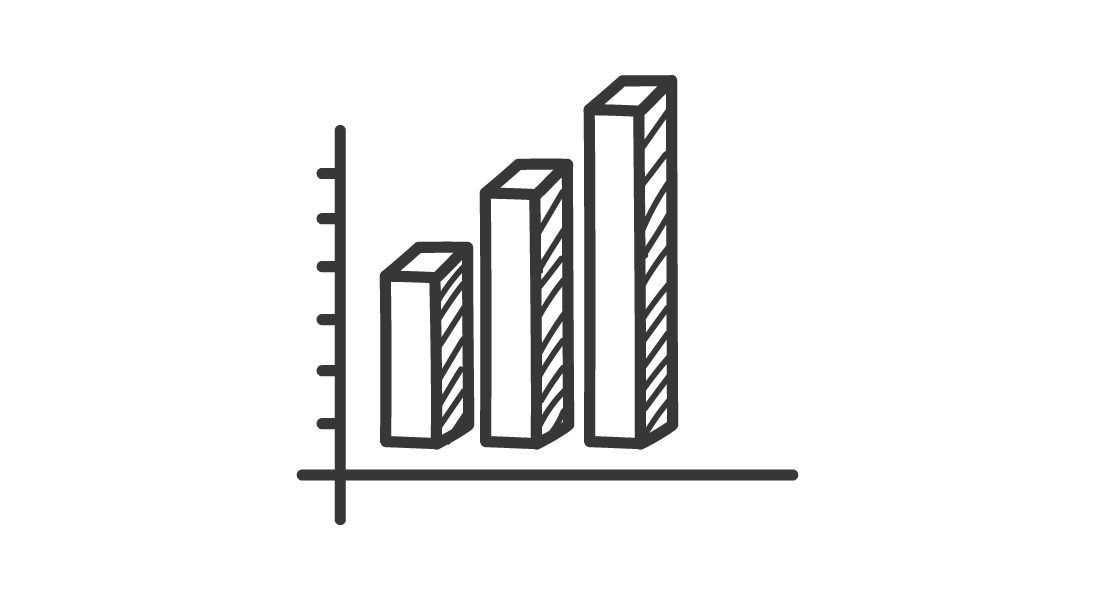 Stage 2: Bellissima ECG
A flexo printer can achieve further cost reductions and benefits by adopting Expanded Color Gamut printing with Bellissima DMS.
A printer will reduce the amount of labour and resource requirements needed to wash up the press by using ECG. The press capacity and utilization of the machine is optimized by combining or 'ganging' multiple jobs.
Less waste is reported due to color shifts, and further cost savings are made by reducing the amount of ink and solvents used in the process.
Bellissima ECG enables a flexo printer to increase its sustainability credentials and increases its press capacity by +40%.
---
We reduced the number of spot colors in prepress and printing and achieved excellent results using standard CMYK inks and CMYK + OGV across a range of substrates.
---